Play free online casino slot machines
Beach Life Slot Review
Beach Life Slot Overview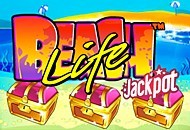 T&C Apply 18+
Visit Now
Beach Life Slot Features
Pick to Win Bonus Game
Wild Symbols
Progressive Jackpot
Full Review
Beach Life could arguably be Playtech's biggest and most popular slot machine game. It has one of the largest progressive jackpots going for an online slot today, and has been in existence for many years. The slot, of course, has a sunny tropical beach resort theme, and is very bright in colour, with plenty of icons representing the theme honourably. The slot has a fresh feel and look to it, and anything any gamer could possibly associate with a tropical beach life paradise can be found as icons in this progressive jackpot slot.
Play Free Below

Play This Game for Real Money – Click Here!
How to play Beach Life online
Beach Life is found in virtually every online casino site that offers top progressive jackpot slots, and certainly almost all Playtech powered online casinos. The slot features 20 paylines, spread over 5 reels. Coins vary from £0.25 to £5.00 and only one coin per line is permitted to be wagered. That rather simply gives the minimum and maximum wagers that players can stake in the slot, a floor of £0.25 and a ceiling of £5.00
As mentioned, there are plenty of sunny and colourful icons in this slot machine, all of which are designed to bring out the theme that Playtech ash chosen for it. The higher paying icons in this slot include a scuba diver, a babe on the beach and a surfer. Smaller paying icons include a fruit sandwich, an ice cream, a chocolate lolly, a cherry ice cream, and a standard lollipop. The low paying symbols vary from 150 coins to 50 coins, depending on which one you accumulate 5 of. The highest paying standard icon is the scuba diver, which is worth 500 coins for 5 matched icons.
Beach Life bonus features
There is one scatter symbol in this slot, and it is offers scattered wins when two or more of them appear anywhere on the reels. With scattered wins, payouts are multiplied by the total bet and added to the line winnings. For example, 2 scatter icons are worth a 2x total bet multiplier. 3 scatter icons are worth a 5x multiplier, whilst 4 scatter icons are worth a 50x multiplier. Getting 5 scatter icons will see a player pick up a 500x total bet multiplier. Scatter symbols are represented by the sand castle icon.
The wild symbol
The wild icon that is used in this progressive jackpot slot is a sun, and a cool sun, complete with sunglasses at that. The wild icon substitutes itself for any other symbol that a player may need to complete a payline, with the exception of the scatter icons or bonus icons. It also doubles as the key to the progressive jackpot.
The Beach Life bonus round
A small bonus has been included into the design of this slot. The treasure chest represents the bonus icon. Should a player bag 3 to 5 treasure chest bonus symbol on any payline, they will trigger the bonus round.
In the bonus round, a player must choose from 14 different treasure chests. The player must actually pick three in total, and each one has a bonus amount of prize money inside it. The sum of these three chests, are added to your winnings at the end of the bonus round.
The Beach Life progressive jackpot
The progressive jackpot is arguably the most important aspect of this slot game. The progressive jackpot can only be won with the wild icons. A player must locate all 5 wild icons, with the maximum wager staked, and have them all on the twentieth payline, in order to win the progressive jackpot. Any other payline will not suffice. Should the five wilds appear on any other line, the player will win 100,000 coins instead of the progressive! Anything less than five will result in payouts of 2,000 (for 4 wilds), 200 (for three) and 10 coins (for 2 wilds).
The lowest progressive jackpot payout ever recorded for Beach Life is a whopping £504,000 at the time of writing. Generally, the average win is around the £3 million mark. The most that any player has ever won (at the time of writing) was over £8 million, in August 2012.
Other notes on Beach Life
As for as progressive jackpots go, Beach Life is the grandfather of all progressives! This monstrous progressive jackpot is not easy to win, but people have managed to do it since it was first released. Any gamer that bags all five wilds on a different payline, might be kicking themselves, but 100,000 coins is still a promising payout.
Of course, any gamer that does manage to land the gigantic progressive jackpot, well; their life will never be the same again. Beach Life has continually drawn in the gamers since its launch, and remains as popular as it ever has done; a real hit with both amateur and experienced gamers alike.
» Start Playing