Play free online casino slot machines
Break Away Slot Review
Break Away Slot Overview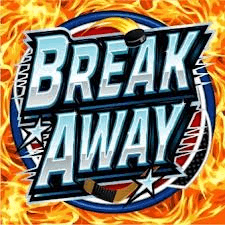 T&C Apply 18+
Visit Now
Break Away Slot Features
Bonus Game
Multiple Paylines
Large Jackpot
Full Review
Microgaming's hockey themed slot machine certainly looks the part, but how does it hold up compared to other hockey themed slots? Whilst there are a lot of dodgy hockey slots out on the market, there are also better ones too. Microgaming's Break Away looks dated, it looks old, and its looks very cheap. Is that enough to put off players? Well that depends on how much you love hockey, and how fond you are of Microgaming titles. Personally, I don't find there to be too much interesting in this slot machine game, at least, nothing we haven't seen before in other slots, hockey or otherwise.
Play Free Below

Play This Game for Real Money – Click Here!
How to play Break Away slots online
Break Away has got 5 reels of icons and is one of Microgaming's patented 243 ways to win slot machines. It is available in some Microgaming casinos, though not all. Now, as for the game itself; it all begins when a player sets their coin values. Coin values vary from £0.01 up to £0.10. The player can bet up to 10 coins per spin, making the minimum wager in this hockey themed slot a mighty £0.50, and the maximum wager £50.00 per spin.
Microgaming has chosen quite stereotypical icons for this slot. Various hockey players in various jerseys make up the majority of the character icons. Other icons in the slot include an ice truck, a fiery helmet, skates, an arena and a referee. It was all too predictable, and none of the icons are really designed in what we might call modern graphics. In fact, if anything, the graphics add age to the slot machine.
Break Away bonus features
The special features in this slot machine are limited. The flaming puck is the scatter symbol in this slot. It appears on reels 2, 3 and 5 and will trigger a bonus game that offers free spins, with up to 25 available. The free spins round sees multipliers of up to 10x available to win.
The wild symbol
The standard wild icon in this slot machine is the Break Away logo, and there are more than 40 wild symbols on the reels. The wild icons appear as stacked wilds on reels 3, 4 and 5. Of course, if you do manage to accumulate 40 wild icons on the reels at any one time, you can consider yourself a very player indeed. The wild icon substitutes itself for all symbols, with the exception of the flaming puck scatter symbol.
The Smashing Wild feature
There is a second opportunity to bags wilds in this slot game. This is known as the Smashing Wild feature. This bonus feature is triggered randomly during gameplay, and cannot be predicted. When it occurs, a series of hockey players will randomly crash into reels two, three or four, and when they do they will turn the entire reel wild. Players are always guaranteed a win if the Smashing Wild feature is activated. It is in essence, the most realistic hockey-like part of the slot machine game!
The Break Away Jackpot
Microgaming have chosen a rather unsporting low jackpot for this slot machine game. Players can only win a total of £500 through the 5,000 coin jackpot that Break Away has to offer. This is rather disappointing, considering the jackpots what other casino software developer's hockey-themed slots have to offer.
Other notes on Break Away
Hockey is all about the fights, the rough and the tumble. There is very little of that going on in this slot machine game. The Smashing Wilds feature is superb and really brings the game to life, but unfortunately, that seems to be the only part of it that does so.
The graphics are bad, not ridiculously bad, but just dated. They are like graphics from a mid nineties or early two thousand slot, not from one released in November  2012. This, coupled with poor sound in the slot makes for an unwelcome and unexciting experience.
The jackpot is also rather pithily considering that the minimum stake is £0.50 per spin, and of course, you'd need to place the maximum wager to get anywhere near the non-progressive jackpot offered in Break Away.
Ultimately, the Break Away slot will always come down to the same two things. If you are a fan of hockey or don't really care for graphics or decent jackpots, then Break Away might just prove itself appealing enough for you to play it. However, if you're not a sports fan, aren't impressed with small jackpots, or prefer to play slots in the 21st century, with 21stcentury graphics, then you can arguably do better than this underperforming release by Microgaming.
» Start Playing