Disco Night Fright Slot Review
Disco Night Fright Slot Overview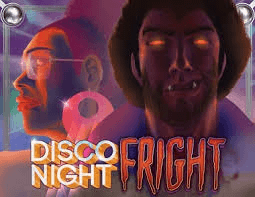 T&C Apply 18+
Visit Now
Disco Night Fright Slot Features
Wild Symbols
Free Spins
High Base Game Jackpot
Full Review
Nobody is quite sure what to make of Microgaming's Disco Night Fright. Is it a disco themed slot? Perhaps it is a Halloween themed slot? Per chance it is a mix of both? Either way, Disco Night Fright is a werewolf/dancer 243 ways to win title, that hasn't drawn too much attention to itself in the gaming community. The reasons for this could be numerous. The theme (if one can figure it out) is rather absurd, the special features aren't exactly revolutionary and neither are the graphics or audio what anybody would call, exceptional.
Play Free Below

Play This Game for Real Money – Click Here!
How to play Disco Night Fright slots online
The slot machine game has 5 reels and 243 ways to win. Disco Night Fright is a very hard slot to rack down, and perhaps that is down to it being undesirable amongst many gamers? Any casino that does carry the game, will more than likely be owned, powered and operated by Microgaming. Gamers can set their coin values to anything from £0.01 up to £0.10 in this slot, with the minimum and maximum bets being £0.10 per spin, upwards to £25.00 per spin.
The graphics used in this slot aren't very good at all. The games logo is a special symbol in this game, whilst a disco ball, a werewolf, a dancing girl, a ladies cleavage, the disco room, and the high playing cards make up the other icons. None of the graphics used in this slot are particularly memorable for any big wins either.
Disco Night Fright bonus features
The scatter symbol in this slot machine is the Disco Night Fright logo. This logo will award scattered payouts when three or more are located anywhere on the reels. However, three or more scatters will also trigger the free spins bonus feature.
The wild symbol
The wild symbol in this slot machine game is the disco ball. The disco ball acts as a basic wild card and doesn't offer to double any winnings that are acquired by using the wilds. Instead, the wild merely substitutes itself with any other symbol that the player needs to win, with only the highest payout being paid from the wild icon.
Disco Werewolf free spins feature
As mentioned, three or more Disco Night Fright logo scatter cards will trigger the free spins round. The free spins bonus round is called the Disco Werewolf free spins feature. The player will get 10 free spins, and when they go to play them, all of the dancers in the disco will turn into werewolves. It's a nice idea, but it doesn't really make up for the rest of the slot. Players can re-trigger the free spins round when it is in session, and any five werewolves on a payline will offer a payout worth 7,500 coins. Smaller paylines containing three or four werewolf icons pay out 500 or 3,750 coins, respectively.
The Disco Night Fright jackpot
Amazingly enough, the jackpot has already been covered. During standard play, there isn't really any major jackpot to be had. With the werewolf special feature offering the games real jackpot, the only way to win another big sum of money in this game is via the wild icons. Should a player bag 3 of the wild icons, they'll win 50 coins. Four wilds will see the player net 250 coins. Finally, five wild icons will offer the player a modest 1,250 coins, but it's hardly a jackpot.
Other notes on Disco Night Fright
It is really hard not to shoot this game down into the ground. The way that has been designed is absolutely terrible. The graphics are hideous; the sound is poor, and the theme in general, a disaster. Can we try to find some light in this mess of a slot though?
Well, yes.
The Disco Werewolf special feature is a nice enough idea, with the notion that all of the dancers on the disco floor are going to transform into nasty werewolves a very funny and appreciated concept. Why Microgaming decided to offer up the largest jackpot in the game via the bonus round though, is slightly puzzling.
Unfortunately, with Disco Night Fright, once everything is said and done, all you are really left with is a very enjoyable bonus round, and a slot machine game that nobody really wants to play. Of course, there are those few gamers who might find this slot enjoyable, but they are going to be few and far between I'm afraid. Werewolves dancing? Bad doggy, bad…bad…
» Play Now!