Play free online casino slot machines
Everybody's Jackpot Review
Everybody's Jackpot Overview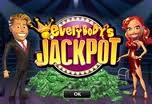 T&C Apply 18+
Visit Now
Everybody's Jackpot Features
Scatters
Wild Symbols
Progressive Jackpot
Full Review
Designed like a television game show, Everybody's Jackpot is one of Playtech's more unusual slot machine games, in that it doesn't have reels as such, but is instead played out in a 3×3 grid. This game uses a community jackpot, which means that a player must have wagered so much in order to qualify for the community jackpot. The slot features very cheesy graphic, very well drawn, but cheesy; such as the game show host and the girl standing next to the jackpot. If you could possibly imagine the worst television game show in the world, with the worst hosts, you'll end up with this slot. The slot however, is pretty good fun though!
Play Free or Real Money Below
Play This Game for Real Money – Click Here!
How to play Everybody's Jackpot online
This slot machine isn't a typical Playtech slot. It is played across a 3×3 square and features a total of 8 paylines for players to enjoy. You might even say, given the circumstances, that it is a 3 reeled slot game. Everybody's Jackpot has proven to be quite popular, and so is available at most good Playtech powered casinos. The minimum stake a player may make in this bizarre slot machine is £0.40 per spin. At its most expensive, this progressive jackpot slot will cost £8.00 per spin.
The icons used in this slot are golden watches, golden necklaces, rolls of dollar bills and gold bars. At least, these are the higher paying icons in this simple slot game. There are other icons too, though these don't pay out as well, and consist of the high playing card icons.
Everybody's Jackpot bonus features
The scatter icon in this slot is the Everybody's Jackpot logo. The scatter icon will reward players with scattered wins when they accumulate two more scatter icons. There is a 1x win for 23 scatter icons, whilst 3x, 10x and 25x wins are available for 3, 4 or 5 icons. Wins of 50x, 100x and 150x are rewarding enough for players who bag 6, 7 or 8 scatter symbols. Any player who finds 9 scatter symbols across the grid, the maximum, will pick up a massive 200x payout. Of course players will be able to enjoy a free spins bonus round (with 12 free spins and wild icon) if they bag 3 or more scatter symbols. Free spins can also be retriggered indefinitely during play.
The wild symbol
The wild symbol is easy to identify in this slot. It is quite simple a green swirly spiral inside a square, that has the word "wild" on it. The wild icon can substitute itself for any other symbol in the game, with the exception of the scatter icon.
The Everybody's Jackpot progressive
This slot machine is played with a mystery progressive jackpot, which is offered randomly and is triggered during main play. The idea behind the progressive jackpot is that it belongs to everybody. The player, who triggers the jackpot, gets to keep 70% of the total progressive jackpot.
15% of the remaining jackpot will be distributed evenly amongst other gamers who are playing the slot at that moment, and have the "qualifier" bet placed. The qualifier bet is listed on the main game screen, next to the reels. So as long as you have the qualifier bet staked, as long as somebody else wins, you will win something too.
The final 15% of the jackpot is offered again to all qualifying players, though proportionally to their bets during the last 24 hours. For example, in a 24 hour period, a player who has wagered £100 in total will receive a larger share of the final 15% than a player who has wagered just £60. As long as they have wagered above the qualifier amount in the last 24 hours, a player can still win a jackpot, even if they have signed out of the game.
It is not possible to win the progressive jackpot during the free spins bonus round.
The standard Everybody's jackpot…jackpot
The progressive jackpot is triggered randomly, like we've said. Therefore, there has to be a second jackpot that can be won in standard play. This jackpot is a total of 250 coins, which can be won when a player manages to line up 3 of the male host symbols. 3 of the female host symbols will still result in a payout of 150 coins though.
Other notes on Everybody's Jackpot
It is a very nice touch to be able to win a share of the progressive jackpot, even if you are not currently in the money to win it yourself, or especially if you have already finished playing the day before. This is a unique gaming strategy that we're sure will catch on with other slot developers in the future.
Yes, the theme is a little cheesy, but everything else in the slot seems to outweigh that. What you've got here, is a unique opportunity to win some serious cash, with an incredibly low maximum wager.
» Start Playing