Play free online casino slot machines
Football Fans Slot Review
Football Fans Slot Overview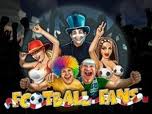 T&C Apply 18+
Visit Now
Football Fans Slot Features
Free Spins
Wild Symbols
Bonus Game
Full Review
It must not be underestimated just how truly woeful this Playtech powered slot machine game really is. This virtually has nothing to do with football fans, and seems like a poor attempt to release a slot that might appeal to actual football fans. Suffice to say, it doesn't in the slightest. The colours chosen will only appeal to fans of Manchester City, Lazio, Argentina or any other sky blue coloured teams, and the use of air horns is almost unheard of in football, yet they make their way into the game as a symbol. This is what happens when a slot is released, which hasn't been given a lot of thought before it was released.
Play Free Below
Play This Game for Real Money – Click Here!
How to play Football Fans slots online
Naturally, it is certainly no hard to understand why Football Fans has not become a popular slot machine game for Playtech. It is only available in a handful of Playtech casinos across the internet. This slot is a 5 reeled, 20 payline video slot that has line bets varying from £0.20, right up to £500 per line. This makes the total bet that players can wager in this slot, an absolutely mind boggling £10,000 per spin; far better than, to wager with only the minimum stake, which will still set you £4 a pop.
The icons chosen to appear in this game include the high playing cards, conveniently placed upon a Brazilian flag, even though the Brazilian football team hasn't been very good for years (nor do they play in blue and white stripes). The Brazilian hat and an air horn are also chosen as symbols, as are some lady football fans, and a bunch of rowdy football fans. The latter two are worth the highest payouts of the standard icons, worth 750 and 1,000 coins for 5 of a kind, respectively.
Football Fans bonus features
The Football Fans logo is technically the scatter symbol in this slot. When three or more are acquired anywhere on the reels, the Penalty Kick Feature is triggered. After every free spin, a penalty kick will turn symbols into random wilds, with either 0, 1, 2 or 3 icons turning wild each time a spin is made.
Three or more Football Fans logos will re-trigger the round, and offer 10 more free spins.
Aside from the penalty kicks free spins round, having 2, 3, 4 or 5 scatter icons anywhere on the reels will also hand out payouts of 1x, 3x, 20x and 100x.
The wild symbol
The wild icon is the flaming football. This wild substitutes itself for all symbols in the game, with the exception of the scatter symbol. Should a player accumulate 2 of the wild icons, they will be offered a 25 coin payout. Three or four wild icons turning up will see a player pick up 250 or 1,000 coins respectively.
The Grab a Beer feature
There is a single bonus round in this game, if the free spins round is not counted. Before a player takes a spin, they should place the cold beer ring icon around any of the 15 icons on the reel. During the spin, the symbols will change. If a beer cup icon lands in the ring spot placed by you before the spin, you will trigger the Grab a Beer feature.
The bonus feature offers players a 3x multiplier on their total bet. This rather nice feature is a bright spot in the game, and will remain in place until the player decides to move it elsewhere. The multiplier though, will only count once per strike.
The Football Fans jackpot
The most that any player can in this slot is 3,000 coins, which is paid out when a player accumulates 5 wild icons (faming footballs) across a payline. There are no other jackpots in this game, and Football Fans is not a progressive jackpot slot.
Other notes on Football Fans
Right, where do we begin here? This slot is supposed to be a football fans slot, but any football fan (like myself) will tell you, that it is filled with inaccuracies, and errors, which if only Playtech had spent more time in researched, they'd have come up with a better slot. The fact that they didn't reveal this slot to be a money grabber, with little care put into it.
The music in the slot drives you insane. It is like some kind of cheap Euro-pop music and not even a decent track, at that. It can be turned off, but Playtech should have done that for you; permanently.
The graphics would be okay, if they actually represented something about football. They don't. Instead you have Brazilian flags located throughout the game, and yet Argentine colours for the strips, face paints and fans scarves. Is this is a big deal? Are football fans going to notice be annoyed? You bet!
Finally, there is that absolutely ludicrous maximum wager. Most gamers don't have the cash to throw down a £10,000 maximum bet. There is certainly no way any gamer (football fan or not) is going to wager £10,000 to win a non-progressive jackpot. Sorry Playtech, this has been bad thinking and terrible design all around!
» Start Playing